Sharon Belknap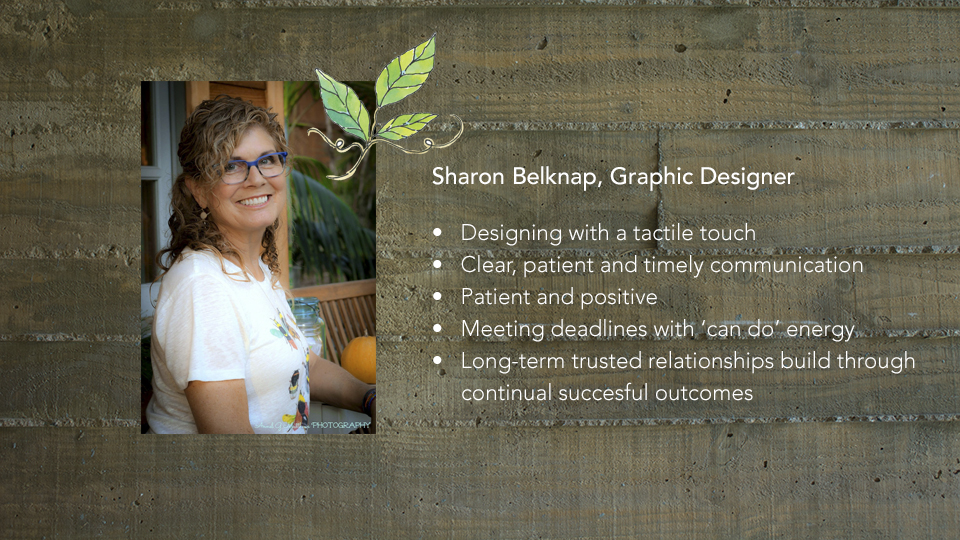 San Diego Based Graphic Designer specializing in ~ Brochures, Logos, Newsletters, Invitation & Signage
I know you have a goal for the the response you'd like to receive for your services, product, program or event. I'm here to support you in creating the most enticing graphics to meet those goals.
I provide you with the full depth of my experience of over 20 years of designing. I enjoy the process and will keep your project moving along efficiently with clear communication and care.
Please call for an informal conversation to discuss your needs and ideas. I'm highly skilled in creating with ease and a positive attitude!
858.922.8339 or send a quick email. sharon@sharonbelknapdesign.com.
– Sharon
MY EXPERIENCE:
20+ year of success in creating distinctive graphic design for ournon-profit, technology, education, business & community leaders. Each committed to advancements in their industry and our communities.
Higher Education: 
Bachelor of Fine Arts, Textile Design, California State University Long Beach
Course Work:
Art Center College of Design, Pasadena, CA  | Illustration & Life Drawing
Laguna School of Art & Design, Laguna Beach, CA | Life Drawing
Frontier Trainings, San Diego, CA & London, England |  Experiential Business Courses
Advanced Skills & Abilities:
• Graphic Designer
• Project Management, Print Estimating, Vendor Relations
• Photo Art Direction & Photography
• Illustrator & Info Graphics
• WordPress Designer & Content Facilitator
• Logo Designer
• Brochure & Catalog Design
• Annual Report Design
• Magazine & Newsletter Design
• Special Event Branding
• Convention/Conference Large Format Graphics
• Signage & Way Finding
• Special Event Branding, Invitation Design
 & Signage
• Email Marketing Campaigns
Character Contributions:

• Enthusiasm & passion
• Professional grace & communication skills
• Discipline
• Sensitivity & intuition
• Team facilitator
• Writing development
• Patient teacher & guide
• Maturity in non-profit organization fund development strategies
• Thoughtful application of broad knowledge in business practices & models
Partial Client listing:
California Center for Human Science
Heal and Thrive
The Oak Street Bldg.
Growing Hope
University of California, San Diego
California State University, San Diego
Soka University
Frontier Trainings
Rene van Rems International
Rady Children's Hospital
Shiley Eye Center
Susan Samueli Center for Integrative Medicine | University of California, Irvine | School of Medicine
La Maestra Community Health Center
Carlsbad Library Foundation
Challenged Athletes Foundation
Scripps Institute of Oceanography/Sea Grant
Monarch School
Wave Academy
Blueport Jazz
Human Options
San Diego Botanic Garden
Pocket Creek Farm | Pangeas Promise
Gallup & Stribling
Santaluz
MDS Consulting
Anacomp
Landscape One Inc.
Dan Crew Construction